Victoria Park Village and Victoria Park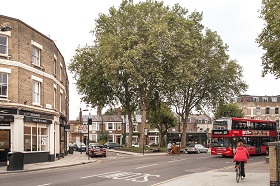 Victoria Park Village is delightful area that is situated next to the oldest public park in Britain, Victoria Park. The two main shopping streets are Lauriston Road and Victoria Park Road. What you can expect from this village are designer boutiques, pubs, bars, restaurants, specialist interior shops, hair and beauty salons, cafes and gift shops!
Victoria Park is one of London's most important historic parks, visited by millions of people for nearly 170 years. Victoria Park is a place for events, sports, play and relaxation. There are a number of local events that are put on by the Traders and Residents Association throughout the year from summer activates to winter fairs.
The top 8 things to do in and around Victoria Park and Victoria park Village are as follows;
Grab a fish and chips takeaway from the Fish House on Lauriston Road and eat them in the park! The fish House is part-takeaway, part restaurant and is no ordinary greasy chip shop.
On a nice summer's day or evening, take a stroll around Victoria Park and pick up an Odonno's Gelati on your way, this is handmade Italian gelato and one of the best ice creams in London, so definitely worth a visit!
If you're feeling creative take a visit to Wonderland Ceramics, here you can paint teapots or even model your own shape.
If you like your wine this one is for you, wine tasting at Bottle Apostle. Not only does this wine shop do wine tasting but they also do supper clubs hosted by chefs such as James Lowe. It's also worth a visit on a Friday evening as they do free tasting sessions!
Feeling Organic? Then go to 'The Deli Downstairs'. This is a family run store that sells organic fruit and veg as well as coffees, pastries, breads, cakes, jams and chutney! There is also an outside area where you can enjoy a roasted coffee with a delightful homemade pastry.
If you're feeling thirsty then check out the very retro Hemingway Pub. Whilst at this pub pop into the toilets as they have rolling stones-lips loos!!
For a spot of lunch visit 'The Pavilion Cafe' and enjoy the views of the boating lake in Victoria Park.
Feeling adventurous, then go boating! Rent a boat from Regal Boat Hire between 11am - 5pm everyday.
If you're about in London this weekend then Victoria Park Village and Victoria Park is the place to be!
For more information on the area Victoria Park Area Guide