The Roman Road Yard Market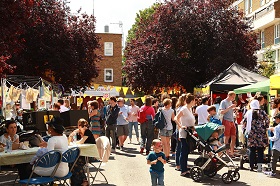 An exciting new addition has been added to one of East London's most famous markets.
The Roman Road Yard market has been given the go ahead and is due to begin trading from the 19th of March 2016. It will be situated in a car park opposite the Albert Pub at the bottom of the main market.
Following on from the well received Roman Road festival which took place last year, the market will specialise in unique wares, including vintage, collectables, mid-century and music! The market will also focus on the promotion of locally produced handmade arts, crafts and fashion.
Roman Road has seen huge changes over the last couple of years with ever-changing shop fronts to meet the demand of the new demographic whom have entered the area recently. The yard market, which is being run by the Roman Road Trust, will further aim to regenerate and reinvigorate one of East London's premier market destinations. Any profits made from the market will then be invested into other community projects.
The market is situated opposite our Bow office so feel free to pop by and have a chat.