Shoreditch Estate Agents Butler & Stag Launch New Website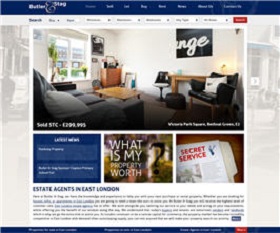 Butler & Stag, London's traditional estate agent are welcoming the autumn market, with the launch of a new website. Having opened for business in February last year, the launch of a much improved second site already is further evidence that Butler & Stag are keen to assert their brand and presence in the East London property market.
The new website will enhance the high customer service levels that the company have become accustomed for, allowing visitors looking for property in Shoreditch and the surrounding areas a user friendly and informative experience.
Butler & Stag have streamlined their online customer service capabilities, with the property seekers web journey made both simpler and smoother. The website is fully responsive in that it adapts to whichever device is accessing it, be that desktop, tablet or smartphone. With Google research showing that more than 65% of property searches are now done via handheld devices, this is clearly the way forward for Butler & Stag.
When entering the home page, the sleeker lines and bolder colours are eye catching and compliment their professional photographs perfectly. There are profiles and contact details for each staff member, creating that personal experience lacking with larger corporate estate agents. By signing up to the website you can expect to receive regular updates of properties suiting your criteria and monthly news bulletins analysing market trends.
Butler & Stag have been working with Web Design and software specialists, Estates IT to bring the new website to fruition. Nick Hubbard, of Estates IT, said: "The vision and ambition of Butler & Stag is energising, they are always looking to improve the way they do things which I am sure will help them evolve and compete with London's larger agents. I admire how they listen to their clients needs and act on them quickly. Although they hold traditional values dear, Butler & Stag recognise how technology is changing and with Google announcing that property related searches on handheld devices, are up 190% in two years this is important. Butler & Stag's commitment to show casing their clients properties to the widest possible audience is there for all to see".
'' I admire how they listen to their clients needs and act on them quickly.''