Places To Eat In Bow E3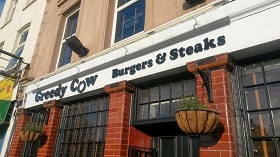 At Butler & Stag we love our grub and with new eateries popping up on an almost weekly basis, it's a great way to converse with clients and buyers . This month we're concentrating on what we have on our doorstep in E3 and I've picked one of my personal favourites, the Greedy Cow on Grove Road. This converted pub is situated just before the junction with Mile End Road, it was opened in 2005 by two brothers who pride themselves on being able to offer the freshest locally sourced produce at affordable prices
As I'm sure you have already worked out, the core focus of the menu is beef in the form of burgers and steaks. There are different cultural options including the spicy Jamaican jerk burger in addition to the premier Japanese Wagyu beef for the more discerning foodie. If you are not a beef lover, fear not as there is a vast array of more unconventional and exotic meats on offer as well. If you fancy trying something more eccentric then you are able to select from either camel, kangaroo or wild boar burgers!
If you are ever in the E3 area and fancy a hearty meal feel free to pop down to the Greedy Cow and check out some proper east end grub. As a meat lover, I've been numerous times and can thoroughly recommend it.
Watch this space for our monthly blog on some of our favourite places to eat and drink in East London.