London's Housing Crisis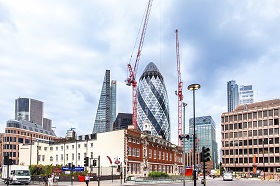 Whilst those already on London's overheating housing ladder lick their lips in anticipation of further price increases, many hard working Londoners are left to ponder where and how they will ever be a able to purchase their first property.
Unfortunately there seems to be no easy solution other than to build more affordable homes. London's population is rising fast, currently 'believed' to be 8.6 million and expected to rise close to 10 million by 2020.
Mathematically this translates to London needing at least 40,000 new homes a year to satisfy demand and a further 10,000 a year to make up on lost ground. Currently only 20,000 new homes are being built per year and developers are struggling to find land sites for more. But with a third of a million newcomers hitting the housing market each year, there is no way residential development can meet such a demand. Even if the green belt laws were relaxed, as the Government appears to want, a few thousand extra homes in the Home Counties will merely require infrastructure and further congest commuting.
"If you really want more people to live well in London, there is no argument, you must get more people into the existing space"
As a result, Londoners are missing out on opportunities that previous generations took for granted: delaying having families, relying on a very uneven private rented sector, and often being locked out of home ownership altogether.
If demand will rise, can nothing be done to increase supply? The answer is yes. Policy cannot transform a market but it can help or hinder. The way to increase London's housing stock is to attack its most glaring inefficiencies, its under-use of land and its under-use of rooms. If you really want more people to live well in London, there is no argument, you must get more people into the existing space.
When you compare London to other major cities around the world, there are some very obvious differences. London is a city of private garden squares, of two-storey semis, of parks and conservation areas. That is why it tops charts of liveability. But houses, especially in desirable boroughs, are expensive. There is no way around it. In comparison Paris or Berlin, let alone New York or Hong Kong, build high and in clusters. Inner Paris has a population density of 20,000 people per square kilometre, four times London's. The LSE urban densities chart shows New York, Moscow, Madrid, Athens and Tokyo all with inner concentrations vastly greater than London's. This is not about towers (except in Manhattan) but about a norm of eight-to-twelve storeys per block, compared with London's Victorian/Edwardian three-to-six.
From time to time I am told that we estate agents are to blame for the housing crisis. Whilst I like to believe that I have had a positive impact on the London market during my career, I have no control over residential development, property taxes or immigration which are all major factors to the problem we face.
Whoever prevails as the next London Mayor be it Sadiq or Zac, I am sure both will feel they are well equipped to tackle the issue. Time will tell!