Landlord and Tenant Obligations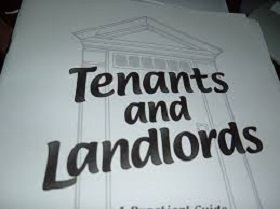 Renting a property can be a draining ordeal, so making sure you know your rights as a tenant or as a landlord are crucial to avoid any unnecessary disputes. Each tenancy agreement will be slightly different so in order to be fully aware of any possible situations, keep a copy close to hand. Simple rights have been put in place for tenants and landlords to ensure they are mindful of what they are responsible for; this can easily be ignored if one of the parties is found in an unfortunate situation.
Obligations of the tenants are pretty modest, making sure rent is paid in full and on time, maintaining the property to a high standard, to report any damage or repairs to the managing agent (MA) or landlord (LL), to provide access to MA/LL for inspection or any works that need to be carried out (as long as agreed notice period is provided), to give agreed amount of notice to the MA/LL to terminate the contract and vacate the property. Inform the MA/LL if you want to add any additional occupants to the tenancy agreement (in most situations you cannot sub-let or take in a lodger for your own financial incentive) and so on. This will all be noted in your signed tenancy agreement, so make sure you are familiar of this. Check out ourTenants Guide.
" This will all be noted in your signed tenancy agreement, so make sure you are familiar of this. "
Responsibilities of the LL/MA are mostly as follows, to allow tenants to reside in the property without disturbance, to make reasonably prompt repairs and undertake maintenance to the property if required. To maintain the structure and exterior of the property, hot water installations and water supply, electrical wiring, basins, baths, sinks and toilets, to ensure the building complies with building regulations. To ensure that all gas appliances are safely maintained by Gas Safe engineers, to make sure all electrical equipment is safe to use. To provide furniture (if the property is furnished) that meets the necessary fire-resistant regulations, and to provide and maintain fire alarms, fire extinguishers, fire blankets, fire escapes and smoke or heat alarms. Please read our Landlords FAQ.
Renting a property through a managing agent would be the more advisable option to consider when searching for a property; almost acting as a mediator, in some senses, to ensure that both Landlord and Tenant are treated fairly when difficult situations crop up. They play by the book in keeping with the rules and regulations set by the government so no one is left out of pocket or with a sour taste in their mouth. A tenancy agreement needs to be signed by both Landlord and tenant; this is a legally binding contract to safeguard either party from being mistreated. A copy should be kept by both landlord, tenant and also by the managing agent. More information on Property Management.
For more expert advice Contact Us..