How will Cross rail benefit us?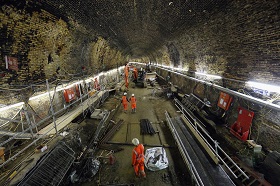 With London and the wider east growing rapidly and the population expanding there has never been a more sufficient time for Crossrail and Crossrail 2 to benefit living in London.
Through new transport links and significant over-station developments being delivered, Crossrail will leave a legacy of economic sustainability. The new railway will support regeneration across the capital and add an estimated £42bn to the UK economy.
London's population is expected to rise from 8.6 million to an estimated 10 million by 2030. A rise of this significance will cause duress to our already crowded roads and public transport network, that's an extra five million more journeys each day.
Journeys from Whitechapel to Canary Wharf will be reduced to just three minutes from 2018, while travelling to Heathrow will take 39 minutes. At peak times there will 24 Crossrail trains per hour in each direction, in addition to the existing London Underground and London Overground services.
Transport improvements are already underway across the network including crossrail 1 (now the Elizabeth Line) which will help aid the pressure in the short term. However a bigger plan is needed to cope with the long term growth, Crossrail 2 will give the transport network the extra capacity needed to keep the wider south east working and growing. .
Not only is Crossrail expected to bring most commuters journey down to 45 minutes it has also boasted an incredible housing market shift within the city and its neighbouring suburbs. Housing prices have soared since work started in 2009 but Crossrail has provided an opportunity to regenerate and rejuvenate London including the development of around 200,000 new homes.
With all this in mind Crossrail is looking like the saviour to living in London, not only will it condense the overcrowding and time of your commute it will also increase your property value by 20%, making Crossrail an even more exciting project for Londoners.