Cycling Around Shoreditch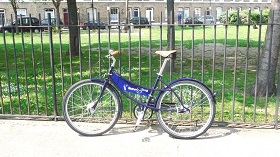 I've always considered myself a driver and if I'm completely honest, I'd never been a fan of bikes as a way of travel and had a certain image of cyclists that meant I didn't warm to the majority. My issue was with the cyclist who takes no notice of a red light, or the cyclist who chooses to ignore you indicating and lambasts 'you' when 'they' almost collide with your car. It's as though, for some, the highway code doesn't apply and because they're on a bike, you gas guzzlers can go and take a run and jump! .
So when we recently introduced bikes as a mode of transport at Butler & Stag, to say I was apprehensive was an under statement, not just because I haven't ridden one since I was 14, but also due to my impression of cyclists and how I felt that might make me look. My apprehension couldn't have been more dumbfounded, if you stick to the rules and are sensitive to car users and pedestrians, it's a great way to travel to and from appointments, particularly with the lovely weather we've experienced recently. .
I'm not saying the car is a thing of the past or that I'm about to do the London to Brighton, as estate agents in the Shoreditch & Bow we will need access to a car for the foreseeable future, but I've worked in the city fringes for 15 years and have seen the increase in bike users (and bike shops) hurtling to work down Hackney Rd each morning and it was only a matter of time before we adapted. With parking becoming more and more expensive (if you can find a space) particularly in Shoreditch along with the congestion charge, bikes seem to be the way forward and the most sensible way to get around
'' I'm not saying the car is a thing of the past or that I'm about to do the London to Brighton.''
I'm now a driver and a cyclist, and have completely altered my opinion of the majority of cyclists, though it still seriously grates when I see cyclists jumping a red light, it doesn't do you any favours or create empathy with other road users. Trust me! .
If I turn up slightly hot, bothered and wind swept, asking for a glass of water when I come to look at your property, you'll know why! .