Crossrail 2 Update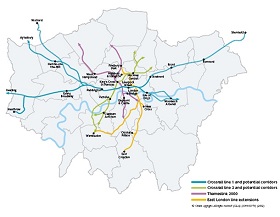 It is no secret that Crossrail has split opinions across the city. It is of course one of the biggest construction projects the UK has ever seen and with an ever-growing population the fears of London coming to a standstill are still a major concern for many. Nearly 21,000 members of the public have raised concerns about Crossrail 2 in a public consultation, published today by Transport for London and Network Rail.
TfL and Network Rail said they are going to make a decision later this year about key issues such as whether to have a station at Tooting Broadway or Balham, and which stations should be served on the New Southgate Branch.
They are also considering a number of changes to the proposals for works at Wimbledon station, including tunnelling the South West Main Line non-stopping services, reconfiguring the existing station layout and considering the use of fewer and narrower platforms, in order to reduce the disruption of works to the town centre.
When respondents said there should be an eastern branch of Crossrail 2, Network Rail and TfL have safeguarded a route from Angel to Hackney Central so that an eastern branch could be added at a later stage should there be a good business case for it. They said that it will not form part of the first phase under the preferred route, but may be part of future improvements needed in the 2040s.
The consultation also found a number of more general public concerns, with members of the public questioning whether Crossrail 2 was necessary, worrying about the impact on local residents, businesses and the environment.
In the response, TfL and Network Rail said that Crossrail 2 is necessary to meet the needs of London's growing population and will support 60,000 jobs during construction and 200,000 jobs when it is built, and that they would address any problems for communities and the environment.
TfL and Network Rail said they have already addressed a number of concerns raised in the consultation. For example, they have made worksite B at Alexandra Palace smaller to reduce the impact on local green space, rejecting two worksites at Shoreditch Park after concerns were raised about the impact on community facilities, and looking at the feasibility of integrating the station entrance at Dalston into a shopping centre.
TfL and Network Rail are now working with the Department for Transport to develop Crossrail 2 ahead of further public consultation expected to take place this autumn. Subject to delivering on key recommendations made from the National Infrastructure Commission, a Hybrid Bill could be submitted in 2019 which could enable construction starting in the early 2020s, with the first Crossrail 2 service running in 2033.