Clapton Estate Agents Sponsor School Football Kit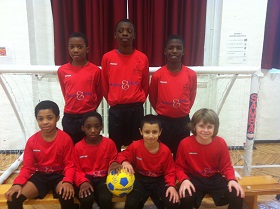 Clapton estate agents Butler & Stag are delighted to announce, that they have recently supplied Daubeney Primary School with a fetching new football kit.
The bright red shirts featuring Butler & Stag's logo (see photo) will be worn by pupils for all representative matches against other primary schools in Hackney. Daubeney's football coach Reece Darchivelle added;' 'Butler & Stag's continual support for the school has been instrumental in allowing us to achieve our short term goals. The pupils are extremely excited about wearing the kit, representing their school has become extra special, we can't thank Butler & Stag enough.''
Hopefully the new kit brings the team lots of success!!