Agents Mutual Launch onthemarket.com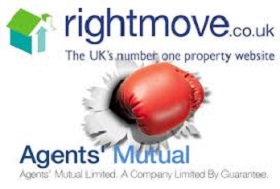 A new year brings new possibilities and, no doubt, we will all be very busy making lists of our new year's resolutions. But, for the property industry, the start of 2015 will be especially exciting, as a brand new national property portal called OnTheMarket.com will launch.
OnTheMarket.com has been designed to rival the two existing giants: Zoopla and Rightmove, and also provide a better offering for seller and buyers. It is a Mutual which means it is owned and funded by all the member agents for the benefit of those member agents their clients and applicants and is not for profit. The property search will be slick, simple, fast and state-of-the-art. No clutter from irritating and distracting third party advertisements. No spam mail. No spurious online valuation tools. No unnecessary information over-load. Just hundreds of thousands of UK properties to buy or rent at all price points all across the UK.
Funded by a group of major estate agents and initially known as Agents Mutual, its board includes some of the country's most powerful property moguls and Ian Springett, founding CEO of Primelocation.com, is the Chief Executive. Agent's Mutual will continue to be the vehicle for communicating with agents and OnTheMarket.com will be its consumer-facing portal.
The logo design is based around a map marker which should resonate with the property searches as symbol of their search. Cleverly, the shape of the map marker becomes the initial O (for OnTheMarket) and can also act as a stand-alone symbol.
"The property search will be slick, simple, fast and state-of-the-art"
Reassuringly, OnTheMarket.com will be the only portal to be endorsed by both the National Association of Estate Agents and the Association of Residential Letting Agents.
For property sellers and purchasers it will offer a new property search experience and provide a one-stop-shop as it will, eventually, be the only portal to display the majority of properties across the UK in one place. This is because on signing up to OnTheMarket.com agents agree to only place properties on one other site. So, OnTheMarket.com will become the definitive property portal.
At Butler & Stag we pride ourselves on being progressive in our approach and we are delighted to have become part of Agents Mutual and look forward to the public launch of OnTheMarket.com. With numbers already reaching some 1,900 members with over 4,000 branches across the UK we know we are in good company and we will be actively promoting the site to our clients.
So, do look out for the new site in January until then, we would like to wish you a very Happy Christmas and prosperous New Year from us all here at Butler & Stag.