11 reasons to go to Roman Road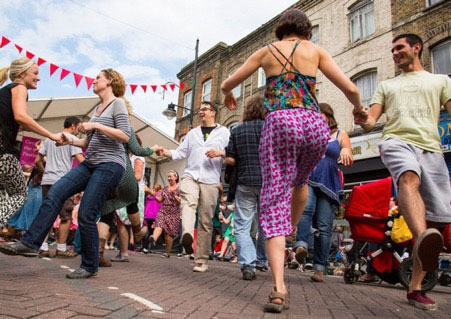 A place where two tribes live in harmony, and Roman Road is the epicenter. The old and new Bow residents come together to form an ever changing culture.
Running for more than a mile between Bethnal Green and Bow, it's a street that's earned its place in East End history. A stone's throw away on Grove Road, the first V-1 rocket fell in 1944. Today, thanks to its grocers, butchers, bakeries, convenience stores, charity shops, boutiques, cafés, restaurants, cash-and-carries and thrice-weekly market, Roman Road is home to a living, functioning community.
And yes, the affluent residents and pricy establishments are multiplying. But that's the beauty of Roman Road: you get the best of both worlds. Take eating out, for example. There's the whole avocado-on-sourdough thing if you're feeling virtuous, or a fry-up from one of umpteen greasy spoons if you're still wonky from the night before. And so far, the road seems to have a pretty strong immune system when it comes to fighting off the usual chains. Prices rise, people move and areas change in this fickle city. Roman Road, I think, though, will do just fine.
Wander up to Old Ford Road for a pint at The Eleanor Arms. In an area where, to be honest, decent boozers are pretty thin on the ground, this cosy Shepherd Neame pub is run by a lovely couple.
A flat white at The Store: a sweet little independent caff run by perpetually cheerful staff. The perfect place to spend an afternoon scrolling through Facebook - sorry, working remotely - on your laptop.
You're in East London, so go traditional and pick up pickled herrings and rollmops at George's Plaice, a bona fide purveyor of all things brined and aquatic that's been going strong for more than 40 years.
Northern Chinese cuisine at the spectacularly named Chinese Restaurant & Takeaway. This humble little place doesn't look like much from the outside, but it serves up delicious food that's obscenely cheap. Be brave and try an offal skewer - they're only £1 each.
Despite its old-school menu, The Art Café is very popular with trendy newcomers. Worth a visit just to see the cool kids Instagramming their chicken kievs.
Bouillabaisse and other fancy dishes at Palmers Restaurant. Given that most of its nearby competitors are chicken shops, this family-run place is surely the road's best-kept secret.
Find some inner peace at the London Buddhist Centre which offers yoga and meditation classes for all levels.
Second-hand threads at Lama's Pyjamas. This charity shop is affiliated with the London Buddhist Centre, so all proceeds go towards keeping everything karmic at the local institution.
Stilettos, woks, massive packs of batteries… whatever you need, go forth and seek out a bargain at Roman Road Market, which runs on Tuesdays, Thursdays and Saturdays. A few street-food sellers have recently set up stall here too.
Prints, cards and candles at the chic, Scandi-influenced gift shop Snap. Great for prezzies when you want to avoid the mayhem of Westfield Stratford City.
There's nowhere better for proper East End food than G Kelly. Nothing to do with the 'Singin' in the Rain' star, but we can assure you that the bargain pie and mash here is stellar.